An adult chicken generally eats 1/4 of a pound or 100-120 grams of feed per day. But they are messy eaters. If you serve the meals on the floor, they will scatter them around and ruin them.
A well-designed chicken feeder can prevent these messes and keep the feed secure without getting knocked into feces. But choosing the right option is key.
A chicken feeder must be functional enough to ensure clean feed and flock uniformity. More importantly, it will minimize wastage and keep foods safe from pests.
Here, we come up with some top-quality options to help you choose the best chicken feeder for 6 chickens. Let's dive in without further ado!
5 Best Chicken Feeders For 6 Chickens
Chicken feeders are available in different sizes, materials, shapes, and designs.
After in-depth market research of our team and a great discussion with some experienced chicken keepers, I have finally chosen these few best chicken feeders that are ideal for you.
Most chicken keepers prefer to buy both waterers and feeders at a time. This helps you save your bucks and eliminates the hassles of buying waterers separately. This perfect combo can be a great option for your feathered friends.
The chicken feeder has 10 pounds capacity. A grown-up chicken eats around 1.5 pounds of feed per week. If you have 6 flocks, they need 9 pounds of food per week. Hence, you can refill the feeder after one week unless it is empty.
The chicken feeder has two portholes. Birds will put their heads into these portholes and eat food. Plus, it is designed practically. Due to gravity, foods will continuously fall from the storage box and replace the missing feed.
Many chicken keepers liked its waterer. Also, it has 2 gallons water capacity. KEBONNIXS created an advanced system to pour water into the drinking cup automatically. Both the waterer and feeder have a cover on the top to keep the water and feed safe and clean.
| Pros | Cons |
| --- | --- |
| ✅ Refilling water and feed is easygoing | 🔻 Heavy abuses may ruin plastic over time |
| ✅ Both the waterer and feeder need an accurate amount of feed and water | 🔻 Waterer is not perfect for freezing weather |
| ✅ Covers are quite stable without any come-off issues | |
| ✅ Rain can't enter inside feed bin if kept outside | |
| ✅ Easy to install on a wall mounting position to prevent knocking over | |
My Thoughts: I have been raising chickens since my childhood. Started the journey with my father and still doing this together. I've used a ton of chicken feeders over the decades and I can recommend this KEBONNIXS waterer and chicken feeder. I found that even wild chickens adapt to these feeders easily and return to them. Starts drinking water from water cups immediately. Another thing I like is that you can actually see the food or water level from outside the coop. It saves my time and helps to monitor better. The only issue I found is that your chickens can be naughty and find a way to waste food. See the picture below, you will get what I mean:
Are you looking for feeders and waterers for your baby chicks? If so, this is another combo option. Use this single feeder for serving up to 12 baby chickens. It holds 1 liter of food. The feeder has eight holes. Eight chicks can enjoy the feed simultaneously without fighting among themselves.
Baby chicks are not as smart as adult chickens. I liked its simple design. Plus, small flocks can see the feed from the outside. So, they will start eating whenever they feel hungry. Plus, the feeder has an upside-down system. Food will be continuously poured to replace the empty space.
The feeder is made from strong and durable BPA-free plastics. So, it can take a good amount of misuse. Chicken keepers liked its waterer design too. It comes with a non-spill technology to avoid tipping and spilling. This will save water and keep the coop floor clean.
Worry about what to use as your baby chicks grow? The waterer comes with three adjustable height positions. You can extend the height and raise the position. This will help your chickens conveniently drink as they don't need to bend too much.
| Pros | Cons |
| --- | --- |
| ✅ A metal handle on top to easily hang the waterer | 🔻 The water is hard to put together when full |
| ✅ 1-liter feeder and 1.5-liter waterer to serve up to 12 baby chicks | 🔻 A hanging hook on the feeder could be better |
| ✅ Easy to install and refill water and feed with minimal efforts | |
| ✅ Not prone to tipping and spilling to keep coop floor clean | |
| ✅ Adjustable heights to support small to grown-up flocks | |
You may have already installed a large waterer and looking for a larger chicken feeder. In such a case, this option seems perfect. It can hold up to 50 pounds of chicken feed. The feeder has three large holes. Flocks can easily put their heads into these portholes and enjoy the meal.
For 3 to 4 chickens, you need to refill the feeder after every 6 to 7 weeks. But, the gap will be 4 to 6 weeks if you have 5 to 6 chickens. Hence, you can stay worry-free by serving food once every month. However, it can be more or less depending on your flock's eating habits.
The entire chicken feeder is made from UV-resistant and impact-resistant plastic. Hence, you can install the food container inside and outside without any problem. Plus, OverEZ uses BPA-free and food-safe plastic. Thus, flocks will face no health risks from eating this material.
Wondering how to refill the chicken feeder? It has a wide-mouth opening on the top to add feed effortlessly in larger quantities. Just make sure to secure the lid properly after refilling the food. The concealed recessed channel eliminates water from entering the feeder and ruins the feed.
| Pros | Cons |
| --- | --- |
| ✅ Can hold up to 50 pounds of chicken feed to feed more than one month | 🔻 Handles on the sides could be better for easy pick up and moving |
| ✅ Made from hard plastics to prevent flocks from damaging the feeder | 🔻 Smaller flocks may get inside and ruin the feeders |
| ✅ A wide-mouth opening for refilling chicken feed quickly | |
| ✅ A no-waste feeding design to avoid food spilling | |
| ✅ Three smart-feeding ports to let several flocks eat at a time | |
Do wild birds or rodents often steal food from your chicken feeder? You might be looking for a convenient option, right? This Royal Rooster feeder appears to be a perfect choice for this purpose. The unit is 20 inches tall. It can hold around 6.5 pounds of feed.
Installing the feeder inside or outside the coop is simple as it comes with a rain cover. Water can't get inside the food container and damage the food. Plus, it comes in handy for smaller chicken coops. Due to its slim design, it will cover minimal space in your flock house.
The feeder is suitable for both pellets and general feed mixes. Plus, it has one large opening with four partitions. This allows four flocks to enjoy the food at a time. In addition, this food container has a secured cover at the bottom to avoid food spilling. It will prevent food wastage.
You can use this feeder, especially for newer chickens who are shy to share food with others. Let them use this small size until they become friends with older ones. Make to refill the food after 3 or 4 days, depending on your flock's eating habits.
| Pros | Cons |
| --- | --- |
| ✅ A slim design to save space inside the chicken coop | 🔻 The hanging mechanism could be better |
| ✅ A rainproof cover to keep food dry and safe for a long time | 🔻 Requires frequent food refilling |
| ✅ Four partitions in a single wide opening to share food | |
| ✅ Perfect for new chickens to give them personal space | |
| ✅ A secured cover at the bottom to prevent food from spilling | |
Are you thinking of installing a bulky feeder in the free-range area outside? This option comes in handy to let up to 25 chickens eat at a time. It is made from sturdy thick plastic to ensure long-lasting durability. Also, the plastic is BPA-free to lets birds enjoy food safely.
The bottom of the feeder is made from indestructible material. This makes the unit more appropriate for messy eaters. It will prevent flocks from using their beaks to flick as much lay crumbs on the ground. The little dividers will control the chickens' unruly movements.
Harris Farms added a heavy-duty handle on the top. You can effortlessly carry it and bring it inside or outside. Besides, hanging the feeder is easygoing using its rigid handle. It will help you scratch litter/dirt/etc. and droppings out.
Worry about cleaning? Regular cleaning will prevent contamination and keep your birds safe from infections. The parts are simple to take apart. Just twist them and clean them. You can use regular soap and water to wash the feeder.
| Pros | Cons |
| --- | --- |
| ✅ Made from BPA-free hard plastics to ensure durability | 🔻 No lid on the top to save feed from rains |
| ✅ A large feed to serve up to 25 chickens at a time | 🔻 The top plastic is less sturdy than the bottom |
| ✅ Dozens of dividers to prevent chickens from spilling feeds | |
| ✅ Easy to assemble and clean the feeder within a few minutes | |
| ✅ A sturdy handle for easy carrying and secure hanging | |
How To Choose A Chicken Feeder For 6 Chickens?
When it comes to choosing the best chicken feeder for 6 chickens, some crucial aspects can't be overlooked.
What Material Is Used To Construction The Chicken Feeder?
Chicken feeders are mainly available in plastic and metal.
Metal food containers are quite expensive and heavy. But they are more durable than plastic.
If you want a metal-based feeder, select a galvanized metal option. They are rigid and not prone to rust or corrosion easily.
On the other hand, plastic chicken feeders are more lightweight and affordable than metal ones.
The best part is that they are effortless to clean. You don't have to worry about rust too.
However, make sure the plastic is made from BPA-free and food-safe material.
| Specifications | Plastic-Based Chicken Feeder | Metal-Based Chicken Feeder |
| --- | --- | --- |
| Weight | Lightweight | Heavier |
| Rust | No issue of rust and corrosion | Prone to rust and corrosion |
| Cleaning | Easier to clean | Less simple to clean |
| Durability | Slightly lower | Higher |
| Price | Affordable | Expensive |
What Is The Capacity Of The Chicken Feeder?
An adult chicken eats around 1/4 of a pound or 100-120 grams of feed per day.
Chicken feeders are available in various sizes, from 5 pounds to 100+ pounds.
Before choosing a particular option, you first want to determine your chicken's eating habits and age.
Usually, larger and heavier breeds eat more than smaller and medium breeds.
The main advantage of high-capacity feeders is less frequent refilling. This will save you time.
But picky flocks may prefer fresh food. It is a good rule of thumb to add fresh food at least twice a month.
The following table shows how much an adult chicken eats weekly and monthly.
| | | |
| --- | --- | --- |
| Number Of Chickens | Per Week Requirements | Per Month Requirements |
| 1 chicken | 1.5 pounds | 45 pounds |
| 3 chickens | 4.5 pounds | 135 pounds |
| 6 chickens | 9 pounds | 270 pounds |
What Type Of Chicken Feeder Should You Use?
Chicken feeders are available in various types, such as Treadle, hanging, Trough, chick feeders, etc.
Treadle or automatic chicken feeders are the best to keep food dry and safe from wild birds. But birds need to learn a bit about using and eating food from this feeder.
Trough feeders are a good option to keep feed safe from rodents and wild birds. They prevent food from spilling and decrease feed costs.
Hanging chicken feeders come in handy to prevent pests and dirt gets inside the food. Besides, it disallows flocks to stand and poop on the food.
You can use special chick feeders if you are only growing small baby chickens. Most are made from plastic and kept on the ground for easy access to food.
Is There Any Cover Or Lid On The Top?
Some chicken feeders have a top on the top to keep the food safe from rain and ensure dry and fresh food for a long time.
This is more important when you keep the food pot outside the chicken coop.
Besides, it prevents rodents from getting the food container and stealing food.
Also, it prevents the spilling of feed and minimizes food waste.
They are removable to refill the pot with chicken feed. You need to twist the lid to secure its position.
But some feeders don't have any cover or lid. This may cause food waste and make food dirty quickly.
How Many Chickens Can Eat At A Time?
Generally, chickens eat in a group at a time. They usually eat at 6-7 am and prefer two pellet meals daily.
You have to keep enough feeders depending on the number of chickens your raise.
Chicken feeders usually have partitions or holes to let several birds eat at a time.
The more ports or holes a feeder has, the more flocks can eat at a time.
However, wider openings allow birds to eat foods from a single hole. It depends on the dimension of the port.
How To Install A Chicken Feeder?
To install a chicken feeder, you want to know how to assemble all the parts.
Here, I will walk you through how to assemble a handy feeder.
Parts of handy chicken feeder:
A Cone
Four Legs
Wing Nuts
A Feed Pan
Two Pieces of Carry Braces
A Carry Handle
Rain Hat
Step 01: Adding Legs On The Pan
First, insert the four legs into the bottom of the pan. Just simply press them into the pan.
Several holes and slots are already built into the pan to guide you.
Once you have warped all four legs in the pan, turn the pan upright and set it aside.
Step 02: Placing One Carry To Over Another
Next, you are going to put together the cross brace. Grab the two pieces.
They have a similar shape. But there are a few key differences between them.
One has a larger hole dimension than the other. And it is smooth on the inside.
The other one is a little leaner, threaded on the inside.
The piece with a larger hole should be placed on the other one. It needs fit over the threaded part.
Step 03: Inserting The Pins Of The Cross Brace
The next job is inserting the cross brace's pins into the cone's side hole.
It is the easiest to do. Keep the cone upside down to access the bottom section and push the cross brace inside.
Make sure to lie on the pins up with the holes, and the cross brace is secured and fitted in the cone.
Step 04: Threading The Handle Into The Crass Brace
Grab the handle and thread the wing nut onto it. Go up most of the length of the handle.
Thread it through the cross brace and go up to the height where you set up the wing nut.
Now that's all in one piece!
Step 05: Adding The Pan Below The Cone
Grab the pan with legs, and thread the handle into the pan.
Keep twisting it until you find a secure position.
You can adjust the height of the cone by rotating it in either direction.
When you reach the height you want, twist down the wing nut to lock it into place.
Step 06: Adding The Rain Hat
If you are going to keep the handy feeder outside the chicken keep, place the rain hat on top of the feeder.
If it has any twisting mechanism, make sure to secure its position with a few rotations.
Otherwise, it may become loose when flocks sit on it.
How To Clean Chicken Feeder?
It is a good practice to clean chicken feeders at least once a week.
Food spillage and dust from the surrounding environment will likely get inside the chicken feeder.
They may contain germs and bacteria. If the feeder remains uncleaned for several weeks, chickens may consume harmful substances while eating the food.
But how to clean a chicken feeder correctly? Here, I will walk you through all steps sequentially.
Step 01: Taking Out The Chicken Feeder
Clean the chicken feeders after mid-morning when all the flocks complete their eating session.
Take out the food container outside the chicken coop.
If you wall-mounted the feeder, carefully remove it from the wall.
Step 02: Removing The Food
The next job is removing food from the feeder.
Pour it into another safe container to again serve the feed after the cleaning.
If the food has too much dirt, you should toss it in the dustbin. It is unhealthy to feed this type of contaminated food.
Step 03: Disassembling The Chicken Feeder
Carefully take apart all removable parts. This will help you clean the feeder properly.
If you are disassembling it for the first time, watch closely how each part is connected.
If you are not 100% confident assembling them correctly, take some photos as a reminder.
This will help you to correctly put together all parts after cleaning them.
Make sure to keep all the parts in a secure place, as you will need all of them.
Step 04: Cleaning The Chicken Feeder
Grab a medium-sized water bucket and pour one gallon of clean water.
Pour two tablespoons of apple cider vinegar into the water and mix it properly.
Alternatively, you can use liquid soaps to clean them.
Apply a small amount of the mixed solution to the chicken feeder. Add more to the dirty areas.
Grab a bristle brush and scrub the dirty parts properly to remove all stubborn poop and stains.
Step 05: Deeply Cleaning The Feeder
If one or several chickens have had any diseases recently, disinfecting the feeder is necessary.
You can use a small amount of bleach solution to avoid spreading diseases.
Grab a medium-sized container and pour one gallon of hot water. Then, add a third of a cup of bleach solution to the bucket.
Use a bristle brush to rub the solution on the internal and external parts of the chicken feeder.
If you don't want to use any bleaching products, you can use an Oxine Ah solution.
It is an effective disinfectant to effectively works against a variety of bacteria, fungi, and viruses
Step 06: Washing The Chicken Feeder
After properly rubbing all parts, place them on a faucet or use a garden hose to wash them thoroughly.
You may need to rinse them several times for deeper cleaning.
More importantly, it will help you remove the cleaning product's substances.
Once you wash them properly, let them dry properly in the sunlight.
Step 07: Assembling The Chicken Feeder
After drying the chicken feeder thoroughly, put together all parts carefully.
If you have forgotten which one comes after another, check out the clicked pictures.
This will help you to assemble them correctly.
Step 08: Assembling The Chicken Feeder
Finally, add the fresh feed into the container and serve them in their regular place.
If you want to wall mount it, place it in the prior location. It will help them to spot the feeder quickly.
Don't delay serving the food as they might be already hungry.
If it takes more than one day to clean, use another feeder to serve food temporarily.
How To Train Chickens To Use A New Feeder?
Some Chicken feeders are effective in preventing food wastage. Feed doesn't come through the port unless they peck on the bolt.
However, if your flocks have not used this type of feeder in the past, they require training to eat food from this type of feeder.
You need to show them how to peck at the bolt. Do it repeatedly. They need to understand that biting on the port will release food.
Practice this approach when they are hungry as they are searching for food.
If they are still not putting their head inside the bolt, you can add a small amount of yogurt. This will attract them to eat the food.
After a few rounds of yogurt, some will start pecking on the nut and enjoy the food. Seeing a few will be followed others to do the same.
Tips For Using Chicken Feeders
Don't serve too much food at a time. The food's freshness degrades over time when it is exposed to the outside air. Refill the food after 3 or 4 days.
If your chicken coop has enough space, use several feeders. Add a special food container for calm and shy flocks who may fear eating with aggressive chickens.
When you place the chicken feeder outside, add a secure cover to protect the food from dirt and dust.
Calculate how much food each chicken needs. They should be adequately fed. Otherwise, it will affect their overall growth and meat and egg production.
Use a bristle brush to remove dirt and poop from the chicken feeder after 2-3 days. This will help you avoid stubborn stains that would cause several hours to clear.
Wrapping UP
Feeding chickens on time is crucial to provide them with enough vitamins and dietary minerals for optimal health growth.
A chicken feeder can be a functional container to let flocks enjoy enough food and prevent unwanted wastage.
Make sure to add enough feed regularly to avoid emptying the container before refilling the pot.
Hopefully, you have chosen the best chicken feeder for 6 chickens from this above article. Take your feathered friends!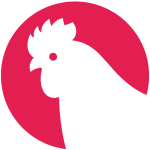 Eric Cooper
Eric Cooper is a passionate and experienced chicken farmer who has been raising chickens since childhood. Growing up, Eric spent countless hours with his father tending to their family's flock, and it was during these formative years that he developed a deep appreciation and love for these remarkable birds.

Today, Eric is a seasoned expert in all aspects of chicken farming, with over two decades of experience under his belt. From selecting the right breed and building a coop to feeding and caring for his flock, Eric has honed his skills over the years and is committed to sharing his knowledge with others who share his passion.