Greetings from Grow Chicken.
Human nature tends to love animals. Our roots are from gardening and farming. Our ancestors were self-sustained and lived happily around chickens. Till today chickens are an excellent source of our protein and also a good friend of ours.
We are a small group of people who love raising backyard chickens and love to see them grow. Years of experience and lessons from our ancestors are reflected in this site. This website is a complete bridge between modern-day chicken keeping and past experiences.
We try to cover every topic on growing chickens and also share our everyday experiences. So, you can join in chicken keeping with us. Our focus is to give you a complete guide and instructions so that you will be ready.
Our Authors
We have cherry-picked each of our authors. Each of the authors has lifetime experience, a love for chickens, and is an expert in this field.
Eric Cooper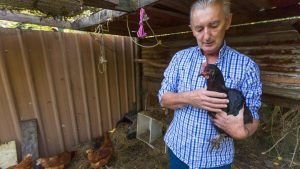 Meet Eric Cooper, a passionate and experienced chicken farmer who has been raising chickens since childhood. Growing up, Eric spent countless hours with his father tending to their family's flock, and it was during these formative years that he developed a deep appreciation and love for these remarkable birds.
Today, Eric is a seasoned expert in all aspects of chicken farming, with over two decades of experience under his belt. From selecting the right breed and building a coop to feeding and caring for his flock, Eric has honed his skills over the years and is committed to sharing his knowledge with others who share his passion.
As a writer and blogger, Eric has become a go-to resource for anyone looking to raise healthy, happy chickens. He covers a wide range of topics, from the basics of chicken farming to more advanced topics such as disease prevention and breeding. His articles are informative, practical, and written in a friendly and approachable style that makes them accessible to everyone. In real life also, he is engaged with the community and helps everyone to get better.
Whether you're a seasoned chicken farmer or just starting out, Eric's articles and tips are sure to be a valuable resource for you. So be sure to check out his work and learn from one of the most experienced and knowledgeable chicken farmers around!
Contact Eric at eric@growchicken.com
S. Jane
Meet Jane, our resident expert on raising chickens! With over a decade of experience, Jane has become a go-to resource for anyone looking to raise healthy, happy chickens.
Jane's passion for chickens began when she decided to start a backyard flock as a way to teach her children about sustainable living. Since then, she has raised dozens of chickens of all breeds and sizes and has faced every challenge that comes with raising these feathered friends.
As a writer and blogger, Jane is dedicated to sharing her knowledge and experience with others who are interested in raising chickens. She covers a wide range of topics, including selecting the right breed, building a coop, feeding and caring for chickens, and managing common health issues.
With her friendly and approachable style, Jane makes it easy for readers to understand the ins and outs of raising chickens, whether they are experienced chicken keepers or just starting out. So whether you're looking to start your own backyard flock or simply want to learn more about these fascinating birds, be sure to check out Jane's articles and tips!
Contact Jane at jane@growchicken.com
---
We try to publish regularly and share as much knowledge as we can. We also do research products, and customer reviews and get the opinions of experts, so that you get the answers you are looking for. But, still, we may lack behind and you may have more queries, feel free to contact us and we will be happy to help.